Business
Business Description
of the structure.
to extend the service life
To the World
Planning / Design
Planning and Design
We plan and design public notices and bid projects that have been ordered, and accumulate them based on the contents.
Field survey

The shape of the bridge and site conditions vary.We make a plan after carefully investigating the delivery route to the site, where equipment is installed, and the state of the existing coating film in advance.
In the case of repainting, in order to grasp the presence or absence of harmful substances in the existing coating film, if there is no coating film survey result, we also conduct a coating film survey.

Design integration

We will reflect the results of the field survey and make the best design for the site.
At the same time, safety measures based on laws and regulations will be incorporated for each type of work.
We also carry out accumulation according to the design content.
Construction plannning /
Management
Construction planning and management
Construction planning

To meet the requirements of the orderer and to make the construction safer, better, cheaper, faster and less environmental impact.Determine the method and procedure for construction.
For this reason, we conduct on・site inspections to understand the surrounding environment, contract conditions with the ordering party, consultation and coordination with the local community, and other conditions at the site.We will conduct a design review and discuss with the ordering party if there is any shortage, etc.
After technical examination of the construction method, the construction order, and the machine used, the construction plan is drawn up.

Construction management

We provide high-level construction management that matches the contents described in the construction plan and on-site construction, and can confirm the contents by utilizing the track record and experience cultivated in many original construction works.We will do it.

Safety management

As a whole, we will thoroughly implement "safety first" and carry out safety management.
We conduct regular in・house patrols (on-site and in writing) led by the Quality, Environment, Safety and Health Office, and immediately correct defects and eliminate dangerous elements.
In the case of repainting, since harmful substances are handled, management and safety measures based on laws and regulations are also essential.

Reducing the impact of construction

We will carefully grasp the situation around the construction site and actively consider minimizing the impact of construction, such as reducing congestion and noise.
(In the steel bridge reinforcement work, we have a track record of using the TRS method to perform repair of steel floor slab with main line regulation from within the girder without main line regulation.))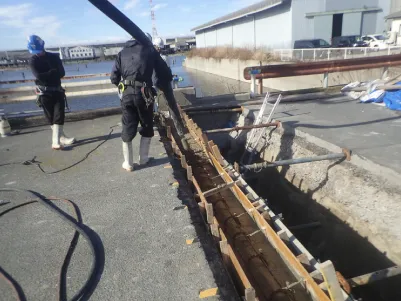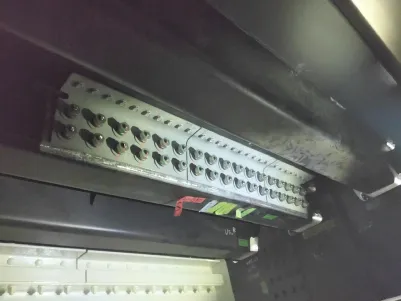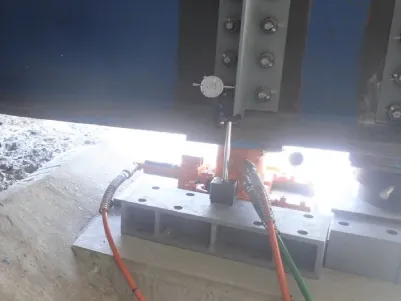 One-stop Construction
One-stop construction
In recent years, one-stop service has been attracting attention in various industries.It means "a business form that can receive various services at once."
In order to utilize the know・how of many years of in-house original construction work results and a wealth of human resources, not only for painting but also for repair work in general, we provide a wide range of services from planning and design to construction.We have made it possible to "one-stop construction" to collectively manage a series of processes until completion of construction.
Cost reduction because it is a one-stop service

In the steel bridge repair work, from planning, design and accumulation, construction planning and construction work (floor plate repair, telescopic joint repair and replacement, bearing repair and replacement, bridge prevention equipmentOur company undertakes a series of processes from installation, crack repair and preventive maintenance, ground adjustment, painting, etc.), construction management, and completion.You can reduce the cost.

Quick response because it is a one-stop

Since all decision・making and communication in each process can be completed by one company, time loss in confirmation and judgment can be reduced as much as possible.
It is a scaffold that disappears when construction is completed, but scaffolding is indispensable for bridge repair work.
We believe that a stable construction environment is created by thorough preparation.Therefore, we will not neglect careful consideration about the work of installing the scaffolding that is the foundation of construction.
In addition, in the bridge construction of a national highway under direct control from fiscal 5, after the construction contract is signed, the contractor will install the system on a conventional pipe scaffold based on the on-site situation.We selected the scaffolding method after comprehensive comparison and examination of not only the cost but also the reliability of workability, construction period, and safety measures.It is also important to note that this is not the case.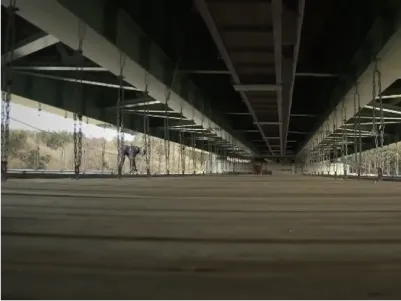 Quick Deck

Our company owns the "Quick Deck (NETIS TH-150007-VE quasi-recommended technology)", a pre-floor construction system suspended scaffolding, more than 1 million square meters in-house.
The horizontal swivel assembly method improves safety in aerial work.
The wide chain pitch of 2.5m makes it easy to handle large materials such as reinforcement members within the scaffold.
Due to its high strength (maximum load 350kg/㎡), frame scaffolding can be installed on the scaffolding, and it is effective on truss bridges with high girder height.
We offer advanced long-life technology with high-strength scaffolds that are safe and efficient.

Support for bridges of various shapes

In addition to the plate girder bridge and box girder bridge, we also deal with bridges of various shapes such as lower arch bridge and pedestrian bridge, and we carry out construction while securing traffic as much as possible.It's a good idea.

Measures for the surrounding environment

A safety net is put up before scaffolding installation to prevent secondary accidents caused by falling workers and falling materials and equipment during work.This net is also used for the same purpose when removing scaffolding.
In the case of blasting, the work area is covered around the scaffold with planking protection equipment, etc., so that dust such as grinding material and coating film debris do not scatter around the surrounding area.The rear must be sealed.In addition, the inside is cured reliably by the "Eco Clean Blast sheet" for blasting.In addition, it is necessary to keep the working area at negative pressure by negative pressure dust collector.None of these is a perfect measure.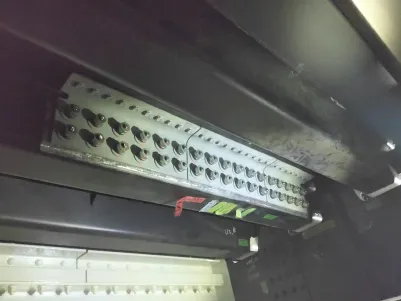 Repair / Reinforcement
Repair and reinforcement
A bridge that has supported the development of the Japanese economy for many years.
However, they have suffered various damage due to aging.
The repair parts of steel bridges are various, such as floor slabs, telescopic joints, bearings, bridge drop prevention devices, and fatigue cracks of girders.
Based on our track record and experience in various bridge repair works, we are working on extending the life of steel bridges under the motto of "Continuing to protect bridges for rich Japan".You can do it.
TRS construction method

As a repair method for fatigue cracks in steel bridges, plate repair has been adopted as an effective means.The reinforcement plate is attached with high strength bolts, but depending on the repair point, the road surface is restricted by traffic, asphalt and concrete are chipped, and the bolt is fixed.It was necessary to recover after tightening the bolt.
TRS (Slot rolling screw) is a high-strength bolt that makes an anchor (bolt head) on the back and stops it, but it does not make an anchor and does not make an anchor from one side.It is an epoch-making bolt that can be fixed with only one bolt.
By adopting this method, traffic regulation of the road surface and restoration of the chipping of the pavement surface are unnecessary, and construction costs and social losses due to traffic regulation can be suppressed.You can also use the following methods:(Our company has a track record of being employed in the repair work of the Meiko Nishi-ohashi Bridge.))

Eco Clean Crack Buster

It is a technology that closes the micro-cracks discovered during bridge inspection by repeated blows with a needle, and delays or stops the progress of the cracks.
Since compressive residual stress can be applied, preventive maintenance of cracks is also possible by improving the fatigue strength of non-crack areas.

Replacement of accounts

The bearing is an important member located at the contact point of the upper and lower structures of the bridge.The purpose of the replacement is to restore the function of the existing support due to aging and to improve the seismic performance.In general, the girder is jack-up and replaced on the support, but the girder reinforcement of the jack-up part is necessary if necessary.
The optimal construction method is selected according to the conditions of the target bridge, such as the structure type of the bridge, the surrounding environment, and construction conditions.

Telescopic device

The telescopic device is installed at the end of the road surface of the bridge, and is used to absorb the expansion and contraction of the bridge due to changes in temperature, deformation of the bridge during an earthquake and with the passage of vehicles.It is intended to allow cars and people to pass without hindrance.
However, it may cause noise and vibration because the car is directly loaded.In addition, because deterioration or damage of the telescopic device can lead to serious accidents, it is necessary to consider the size of the bridge, the characteristics of passing vehicles, and consideration for surrounding residents.We will make the selection.
Preventative Maintenance of Fatigue Cracks
Fatigue crack preventive maintenance
Steel bridges have been supporting traffic loads for many years.Due to the increase in traffic volume and the increase in the size of vehicles, bridges with aging age have become prone to cracks in stress-intensive parts (welding ends, etc.), which tend to be weak points.It's a great place to start.If left unattended, it is a serious damage "fatigue crack" that leads to the fracture of steel.
The conventional preventive maintenance technology has many constraints such as workability, economy, and securing of construction quality.However, in some highway renewal works recently, it has been introduced as a fatigue crack prevention maintenance work.It will be.
We have developed a method that is safe and secure against fatigue cracks, ensures construction quality, and has excellent workability and economy, and has also demonstrated its effectiveness.
Shot peening

As a preventive maintenance technology for fatigue cracks, we have focused on "shot peening", which has been proven in the automotive and aircraft industries.
Shot peening is a process in which a large number of special steel balls (shots) for peening are struck on the steel surface at high speed, and plastic deformation is made only near the surface.By applying compressive residual stress to the surface layer, this technology improves resistance to fatigue cracks and stress corrosion cracking.
From automotive parts such as springs, gears, crankshafts, etc., to aircraft related parts such as jet engines, wings, landing gears, etc.It has been used to ensure safety.

Industry-academia Collaborative Research

We conducted a joint research with Gifu University to scientifically prove the effect of shot peening using the eco-clean hybrid method and presented a paper.We will continue to conduct research that will lead to further development in the future.

Circular shot peening

Japan Society of Civil Engineering Chubu Branch Technical Award (2019)

Ministry of Education, Culture, Sports, Science and Technology Award (2022)

Japanese Patent No. 6304901/No. 6501718

In the repainting process, "Circulating blast method®︎By replacing the metal・based grinding material for blasting with a shot, the system of "shot", "shot", "shot", "shot", "shot", "shot", "shot", "shot", "shot", "shot", "shot", "shot", "shot", "shot", "shot", "shot", "shot", "shot", "shot", "shot", "shot", "shot", "shot", "shot"It is also possible to reduce the amount of heat generated by the heating process.Only "Shot for circular shot peening to steel structure" specified in JIS G 0951 is used for the shot.
A hybrid method of blasting and shot peening in the repainting process.This is the eco-clean hybrid method.
A typical damage to steel bridges is "corrosion".In order to prevent this and lead to a longer life, the Rc-i coating system has become the standard for repainting.The quality of 1 type (1 type Keren) which is the base of Rc-i coating system can be obtained only by blasting.In other words, blasting is essential for the long service life of steel bridges.
We have been dealing with the problem of so-called sandblasting (blasting using non-metallic materials such as iron structure slag as grinding material), which has been carried out in the field.The "Recycling type blast method" is environmentally friendly by overcoming the large amount of industrial waste generated.®We are working on development and dissemination activities.
Circulating blast method®

国土技術開発賞 地域貢献技術賞(2014)

Environment Award Minister of the Environment Award (2018)

Received the Prime Minister's Award for Merit in promoting Reduction, Reuse, and Recycling in the 3rd year of Reiwa (2021)

建設技術審査証明取得技術(建審証 第2201号)

Circulating blast method®is used a high wear-resistant metal-based grinding material, and recovered both the grinding material used and the coating film scrap was peeled off by blasting, it is obtained by sorting both.しって、金属金属性の高い金系系研削材を用いることができる。It is a blasting method that circulates and reuses the grinding material.Recycling and reuse of grinding materials reduces the generation of industrial waste corresponding to that amount and reduces the environmental impact.Dust generated during blasting is also minimized.Significant dust suppression makes the visibility of workers clear, leading to improved safety and work efficiency.
Circulating blast method®As a new technology including various improvements, it has also been registered in NETIS.It is recorded.
With the aim of spreading the method, securing the construction system, and fostering technological capabilities, the Japan Steel Structure Recycling Type Blasting Technology Association was established.We are working to expand our activities.

General Incorporated Association
Japan Steel Structure Circular Blast Technology Association

The Japan Steel Structure Circular Blast Technology Association (JSTC) has developed a method of using metal-based grinding materials for heavy-duty corrosion protection in measures to extend the life of infrastructure steel structures.i used it.、®This association was established with the aim of ensuring nationwide popularization and construction systems.
The number of members at the time of 2023 year 7 month is 119 companies 1 group, the circulation type blast method of the association member®As of the end of fiscal 2022, the total construction performance of the project was approximately 1.93 million square meters.

Construction Technology Examination certificate

In the midst of similar construction methods, circulating blasting method®︎In order to clarify the definition of industrial waste, we confirm the effect of suppressing the generation of industrial waste by the reduction rate of the grinding material used in the construction technology examination certificate.
We set the specifications and construction conditions of the equipment and grinding materials to be used, and after satisfying the prescribed construction quality and construction efficiency compared with the case where the grinding materials are not reused, we will perform the followingThe Review Committee, which consists of a third party, has confirmed the high rate of reduction in the number of employees.
- If the grinding material used is high carbon cast steel grit grade A: 99.89%
- If the grinding material used is SUS430 cut wire: 99.94%

Eco Clean Cool Suit

Blasting works are classified as "Specific dust work" according to the Dust failure Prevention Regulations.Therefore, equipment required by laws and regulations, such as air supply masks and chemical protective clothing, is essential.
The Eco Clean Cool Suit is an upper and lower separation type full body protective suit that combines the functions of an air supply mask (JIS T 8153) and a chemical protective suit (JIS T 8115).
When working in the summer, a cold air conversion device is installed to send cold air into the suit and protect the worker from heat stroke.

It has been selected as the recommended technology for the Reiwa 5 fiscal year by NETIS.(CB-190009-VE)

Eco Clean Blast Sheet

During the blasting operation, it is necessary to put a blast curing sheet in the sealed work area to shut out the abrasive material and harmful dust.You can also use the following methods:
Eco-Clean Blast Sheet is a brand with high durability that does not damage even if the impact caused by the scattering of grinding materials, and high flexibility to follow even complex shapes.It is a curing sheet for exclusive use of the test.
It also conforms to the flameproof brain prescribed by the Fire Fighting Law.

Circular wall blasting Robot

We have developed a "circular wall blasting robot" that reliably removes fragile parts such as layance layers and weathered parts in concrete surface treatment.
Since it adsorbs to the concrete surface and performs surface treatment, it can be constructed without scattering of dust.We have succeeded in recycling the grinding material and making only concrete powder as industrial waste.

Eco Clean Shot

Eco Clean Shot is a polyhedron grinding material made of stainless steel with improved blast quality.By utilizing this technology, it is possible to improve the quality of the grinding material by eliminating the impingement of debris on the steel surface.

Recycling blasting method of twin nozzles

The twin-nozzle recycling blasting method is a direct suction type blasting method that uses eco-clean shot to improve grinding capacity and recycling rate.It is a construction method.Compared to conventional direct suction type blasting, grinding capacity and work efficiency are greatly improved, and coating film peeling and substrate adjustment can be performed efficiently at the same time.You can do it.

Consideration for noise

Circulating blast method®︎The vacuum recovery device is the main source of noise for suction and recovery of heavy metal-based grinding materials.For this reason, the vacuum recovery device is equipped with a silencer, and the noise criterion value (105dB) of the low noise type construction machinery of the compressor, which is a knitting machine of the same method, is reduced.We are trying to reduce the noise so that it becomes the following.We measure noise at the acoustic power level measurement site of construction machinery located at the Construction Technology Research Institute of Japan Construction Machinery Construction Association, and hold a noise measurement certificate.It's a great place to start.
In addition, we have also developed an urban low noise unit, which enables blasting in urban areas, which has been considered difficult until now.
In order to extend the life of steel bridges, coating specifications are based on heavy anti-corrosion coating that is superior in durability than before.The purpose of the coating is to "block moisture and chloride ions that cause corrosion", "suppress corrosion reaction of steel", "protect the coating and steel from outside air and ultraviolet rays, etc.It also has the effect of creating aesthetics and landscape.
The "heavy anticorrosion coating", which has a role for each layer: anticorrosion undercoat, primer, intermediate coating, topcoat, rejuvenates the strength and appearance of the bridge.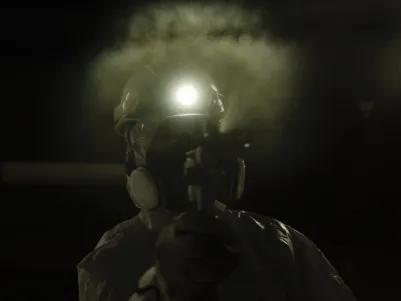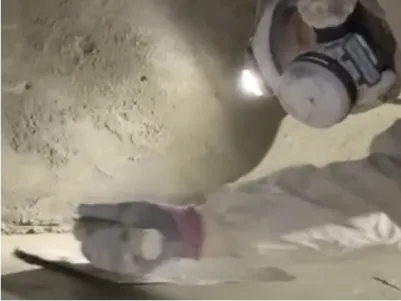 Even in steel bridges, concrete structures such as concrete floor slabs and wall balustrades exist.We also have a lot of experience in concrete repair and reinforcement.We are also developing new technologies related to concrete.
Cross section repair

Cross-section restorers are used to repair parts that are missing due to deterioration of concrete structures, and to repair parts that are not missing but contain degradation factors such as neutralization and chloride ions.It is a construction method for the purpose of cross-section restoration after removing the concrete.We select the best method according to site conditions and construction scale and perform cross-section repair.

Prevention of peeling

Peeling prevention is a preventive maintenance technology to prevent third-party disasters that occur when pieces of concrete fall off due to deformation of concrete structures.
Continuous fiber sheet, FRP grating net, epoxy resin, urethane resin, etc. are applied to the concrete surface to prevent peeling.We select the best construction method considering the site conditions.

Crack injection

The purpose of crack repair is to restore waterproofness and durability.The injection method is one of the repair methods, and it is mainly a method for repairing cracks with a crack width of 0.2mm or less than 1.0mm.
In the actual repair work, it is necessary to check the cause and condition of the crack, the size of the crack width, the behavior of the crack, and the presence or absence of internal rebar corrosion.Then, we will select the appropriate construction method and materials to perform the construction.There are various factors that cause cracks, so it is important to identify those factors and remove them appropriately.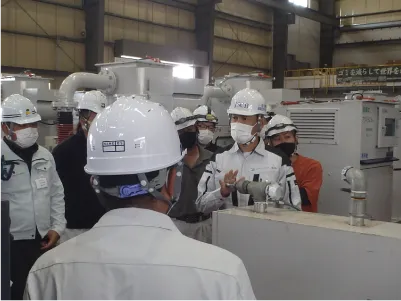 Technician training
Training of skilled workers
Due to the long life policy, the demand for blasting is increasing every day.
On the other hand, the shortage of human resources has become a serious problem in the construction industry.
The decline in technological capabilities is also feared.
In order to provide a stable supply of safe and high-quality circulating blasting, we believe that the first thing is to improve the quality of the construction method itself and develop technical capabilities.We are working to develop and improve the environment so that our technicians can work safely.
Establishment of a circular blasting Technician certification system

Through the Japan Steel Structure Recycling Blast Technology Association, we have established a recycling blast technician certification system, and have established a recycling blast technician certification system.We will strive to improve safety knowledge and safety awareness, such as measures against harmful substances such as lead poisoning, and safety equipment.

Vietnam Technical Training Center

Although the current Technical Intern Training System aims to contribute internationally through human resource development, there are also cases where it is used to secure labor.It has been pointed out that there is a discrepancy between the purpose of the system and the actual state of operation.For this reason, technical intern training, which was added to the purpose of "human resource development," has been abolished, and a new system has been proposed that was added to the purpose of "securing human resources."
However, there are concerns that if the purpose of securing human resources is added, it will be used only to secure the labor force even more.

Through the Japan Steel Structure Circular Blast Technology Association, our company aims to provide trainees with basic knowledge (technical capabilities) in advance before coming to Japan.In order to ensure efficient practical training after coming to Japan, as well as to raise the possibility of securing a place to play an active role in the home country after returning to Japan, and to establish a technical training center in Vietnam, we have established a technical training center in Vietnam.We have established a technical Training Center (Blast School) to secure highly skilled human resources.

Thorough safety management through the establishment of various guidelines

Through the Japan Steel Structure Recycling Blast Technology Association (JSTC), we have developed a system to prevent lead poisoning, fire, and benzyl alcohol in repainting work.We have created 3 types of guidelines for the eradication of "poisoning", etc., and we have made it known to our employees and association members about safety.
A checklist for each worker is also attached to improve the safety awareness of all workers.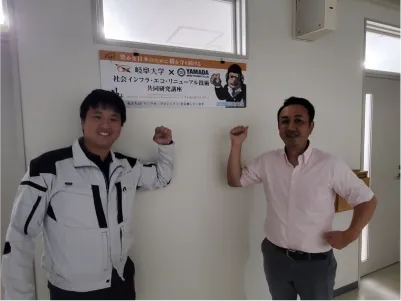 Joint research
Industry-University Collaborative Research
On March 6 last year, the Company signed an agreement with the Tokai National University Organization for the establishment of joint research courses, and established the "Social Infrastructure and Eco・System" project on the premises of Gifu University.-Renewal Technology Joint Research Course (commonly known as Yamada Lab.We are developing cutting-edge environmentally friendly renewal technologies that enable the long life of existing steel structures.
There are still few shot peening results for existing steel bridges, and there is much room for research.In the course of research, new challenges will emerge.And there is no record of shot peening for steel bridges overseas.
We have also started joint research with Purdue University in the U.S., which is an advanced infrastructure country.We confirm the results and effects in the U.S. and so on.